We're A Sing A Long Party in Your Seat!
Part Beatles, Part Box Tops, Rest 60's & 70's Dance Party!


Call (615) 205-0774 to get the link to
our lyric sing-a-long setlist right on your phone!
Mike Stewart – Bass (Buckner Garcia & Pacman Fever 80's)
Gary Talley – Guitar (The Boxtops of 60's & 7o's)
Steve Creech
SING ALONG WiTH US from your phone the 3 B's!
Beatles, BoxTops & Buckner Garcia Sing along

Call 770-826-3662
The Nashville Beatles Jam is not a tribute band, but a sing a long dance party with half Beatles dance rockers plus the best 60's & 70's songs we all love.. Headed by studio musician, songwriter Mike Stewart of the hit band 80's Band Buckner Garcia ( PacMan Fever), Gary Talley founding member of 60's hit makers, "The Boxtops" (The Letter, Cry Like a Baby) and on guitar and vocals, mastering engineer, Steve Creech. No else has this much fun music to sing along with or to like the Nashville Beatles Jam.
With SMS technology, patrons simply dial a local number, and the singalong lyrics, promos for the venue, or anything that is digital is delivered instantly to the cell phones in the hands of everyone on social media anyway. It is fun, followup marketing, and innovative.
We don't look like the Beatles, but we love to perform those great songs and the hits we were apart of in the past. A splendid time is guaranteed with a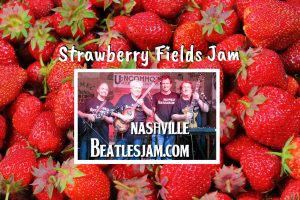 fun evening of singing a long with seeing the setlist and the words at their fingertips.
Not your ordinary tribute band, but jam session in your seat.
Book the Nashville Beatles Jam today. BTW we don't sell CDs, The Beatles have great records, but we do sell jam and honey as a souvenir to remember us by! Click on the image on right to order!